May 5th San Dego shark report: Mako released today
The water temps have warmed up into the mid 60's out here. Today angler Mark Sewald chartered one of our boats for his first shot at shark fishing. We targeted threshers in the morning, poor conditions lead to a tough morning. We changed tactics in the afternoon chummed up, caught and released this mako.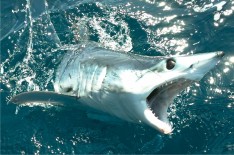 At this time we have at least one boat available each day for private charters in May and June, so check us out and book your trip today.
http://www.californiasharkfishing.com/
Posted by:
California Shark Fishing
Located in: San Diego, CA Phone: 928-380-4504
We specialize in catch and release shark fishing for mako, thresher and blue sharks. San Diego offers year round shark fishing opportunities for a variety of species. All of our guides are professionally licensed and insured and have years of West coast shark fishing experience. We are also available for bay and inshore fishing charters, as well as offshore and overnight trips for tuna and marlin.
2580 Ingraham St., San Diego, Ca 92109
See All Reports