San Diego early May mako
Capt. Dave Trimble
- 05/17/2012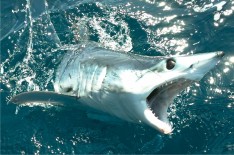 Posted in

Posted by:
California Shark Fishing
Located in: San Diego, CA Phone: 928-380-4504
We specialize in catch and release shark fishing for mako, thresher and blue sharks. San Diego offers year round shark fishing opportunities for a variety of species. All of our guides are professionally licensed and insured and have years of West coast shark fishing experience. We are also available for bay and inshore fishing charters, as well as offshore and overnight trips for tuna and marlin.
2580 Ingraham St., San Diego, Ca 92109
See All Reports