Matt, Hector and Jayden get in on the Bass !!!
Today Capt. Skip was joined with repeat offenders Hector and Jayden and newly Matt for a bit of fun on the water in search of the Striper bite !!!
Matt who never caught a keeper Bass was in for a nice day, but quite a few hours went by with no luck at all. Then after working and working, the crew finally got into the fish after there was no bite at all!!! The trio limited out with Bass from 32″-38″.. Matt got his 1st of many fish and finished the day with a beautiful 36″ Striper… Way to go Matt and Boys !!!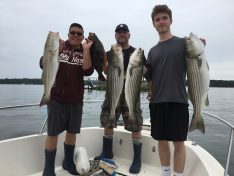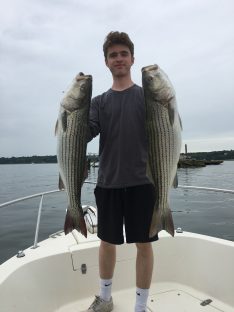 Posted by:
Pursuit of Bass Fishing Charters
Located in: Huntington, NY Phone: 516-238-6445
Pursuit of Bass Fishing Charters. Spend a morning, afternoon, or evening fishing with Capt. Skip Hartmann. He is a USCG licensed captain, and an incredibly dedicated sport fishing guide. Capt. Skip has been fishing the long Island Sound for over 40 years. Expect 100% effort on your trip as Pursuit of Bass Fishing Charters offers a variety of different charters departing from Gold Star Beach(Town of Huntington).Local pickups and dropoffs available!
See All Reports