Texas Massacre on the Bass !!!
Todays trip was one for the books…long time friend Clint brought a co-worker/Texan Walter, for an after work evening fishing trip…In 2 1/2 hours, the crew slammed over 25 Bass between 26-32″.. Along also were Christof and Tom and all had keepers to bring home for dinner…Let the games continue as Walt used his Texas magic and slammed fish after fish…way to go boys…great evening !!!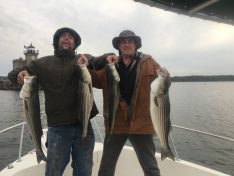 Posted by:
Pursuit of Bass Fishing Charters
Located in: Huntington, NY Phone: 516-238-6445
Pursuit of Bass Fishing Charters. Spend a morning, afternoon, or evening fishing with Capt. Skip Hartmann. He is a USCG licensed captain, and an incredibly dedicated sport fishing guide. Capt. Skip has been fishing the long Island Sound for over 40 years. Expect 100% effort on your trip as Pursuit of Bass Fishing Charters offers a variety of different charters departing from Gold Star Beach(Town of Huntington).Local pickups and dropoffs available!
See All Reports