Old fishing Buddies team up for a day of Fishing!
Well…there back…it's a full blown clown show !!! That's right, Capt. Skip was joined up with Chris, Don and the Mailman for a morning of serious Striper fishing !!! All on board were into the fish right from the start…the laughs, clowning around, and good ole fun times were had by all…the crew got there limit and released a bunch of fish !!! Great fishing with you guys !!!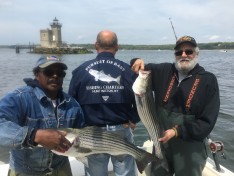 Posted by:
Pursuit of Bass Fishing Charters
Located in: Huntington, NY Phone: 516-238-6445
Pursuit of Bass Fishing Charters. Spend a morning, afternoon, or evening fishing with Capt. Skip Hartmann. He is a USCG licensed captain, and an incredibly dedicated sport fishing guide. Capt. Skip has been fishing the long Island Sound for over 40 years. Expect 100% effort on your trip as Pursuit of Bass Fishing Charters offers a variety of different charters departing from Gold Star Beach(Town of Huntington).Local pickups and dropoffs available!
See All Reports