Early Fall Fishing in Full Swing !
Fall Fishing Report=Absolute Flats Fishing
Absolute Florida Flats Fishing, a fishing guide service serving the West Central FL. Gulf Coast area of Tarpon springs, New Port Richey and Clearwater reports the inshore/ nearshore fall fishing season is finally here. With our 1st baby cool front moving through, the day light hours are shortening daily,  cooling water temperatures and air temperatures making it the most comfortable fishing of the year, the migration of the (baitfish) pilchard's small to full blown size returning to all the beach's and flats the fishing is going to take off with all the predator species on hand. Snook season is opened for fish measuring 28" to 33" !, the Red-fish spawn is on and happening right now in the shallow fishing flats. The season change will trigger many changes in our fishery, the barometric change coupled with cooler water will begin the annual migration of the big Spotted Sea Trout, not to mention all the nearshore species that will be headed back to their winter hangout's in the FL> key's and more southern locales feeding all the way down the line namely Cobia, Kingfish, Spanish Mackerel, Bonita and more. We will start our day by catching (cast netting) a live-well full of the bait of choice (pilchards), and depending on the targeted fish inshore and nearshore we'll fish from deep stained waters of the nearby river's and estuary system's, the area flat's, barrier islands, sound's and bay's to the beach's and nearshore rock piles and artificial reefs till we get-r-done! During this time of the season all the predator game fish have the feed bag on looking to store fat for the upcoming winter, all in all with the late winter we had last March to the late arriving 1st cool down, this fishing should remain with us through December.  This is a special time of year for fishing (MY FAVORITE TIME) with your family, friends and buddy's, business acquaintance, good company from out of town on a visit to our beautiful State.
You're Friend,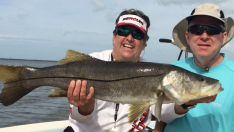 Posted by:
Absolute Florida Flats Fishing
Located in: New Port Richey, FL Phone: 727-376-8809
Central Florida Gulf coast sportfishing guide service with Capt. Rich Knox. We fish for snook, redfish, seatrout, tarpon, cobia , Spanish macheral, kingfish and more all on light spinning tackle. Capt. Knox is a tournament winning guide who will help you catch a memory!
Anclote Village Marina 1029 Baillies Bluff Rd. Holiday, Fl. 34691
See All Reports