Jayden Bangs some nice Fluke and Bass !!!
Longtime friend Hector, on of New Yorks finest, brought his good friend Jayden fishing on the North Shore with Capt. Skip…
It didn't take long for both to get in the act of slamming the Bass and Fluke…in all, we had 2 Keeper Bass and 7 Keeper Fluke !!!
The bass bite was a bit slow, but managed a few nice fish for the boat, but the Fluke bite got insane for a while…
Jayden got right into the act like a seasoned sharpie, and had his way with the Fish…Way to Go Jayden…Nice Fishing with you !!!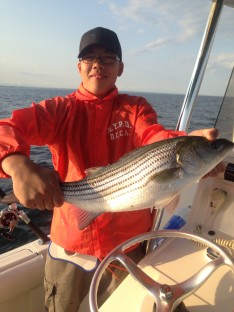 Posted by:
Pursuit of Bass Fishing Charters
Located in: Huntington, NY Phone: 516-238-6445
Pursuit of Bass Fishing Charters. Spend a morning, afternoon, or evening fishing with Capt. Skip Hartmann. He is a USCG licensed captain, and an incredibly dedicated sport fishing guide. Capt. Skip has been fishing the long Island Sound for over 40 years. Expect 100% effort on your trip as Pursuit of Bass Fishing Charters offers a variety of different charters departing from Gold Star Beach(Town of Huntington).Local pickups and dropoffs available!
See All Reports