Hot Bass fishing in Raritan bay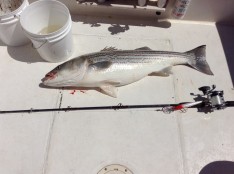 April 21. First trip of the season. Flat seas, warm and sunny and the fishing was fantastic. Started out clamming and had action all morning with fish from 12 inches to 20 + lbs. The bite slowed with the slack tide so I put out the trolling rods and had fish on right away including bass over 25 lbs. Great start to what looks like a very productive season. The bass are here now in good numbers.
Posted by:
Prime Time Charters
Located in: Highlands, NJ Phone: 732-204-2763
Light tackle and fly fishing for 1 to 3 anglers in Sandy Hook area, Raritan Bay and coastal Monmouth county ocean waters. All fishing tackle is provided. Everything except food and drink is supplied. Bring a cooler for your catch, which we will clean, ice and package at no charge. The fishing grounds are just 15 to 20 min from the dock, which leaves plenty of fishing time.
Marina on the Bay Slip C-16 Highlands, N.J.
See All Reports