Raritan bay fishing report
The bite slowed down this weekend especially with respect to clamming which was made difficult by the strong northwest winds. Lots of smaller fish caught and many more missed. The trolling was better though and the bigger fish were hitting trolled plugs. Still not what it was a few days ago. Our biggest bass went around 15 lbs.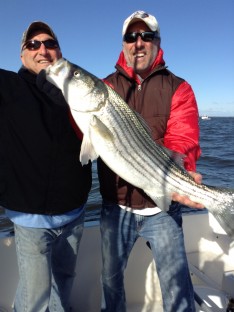 Posted by:
Prime Time Charters
Located in: Highlands, NJ Phone: 732-204-2763
Light tackle and fly fishing for 1 to 3 anglers in Sandy Hook area, Raritan Bay and coastal Monmouth county ocean waters. All fishing tackle is provided. Everything except food and drink is supplied. Bring a cooler for your catch, which we will clean, ice and package at no charge. The fishing grounds are just 15 to 20 min from the dock, which leaves plenty of fishing time.
Marina on the Bay Slip C-16 Highlands, N.J.
See All Reports