Venice, Louisiana Redfishing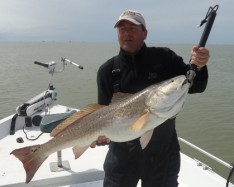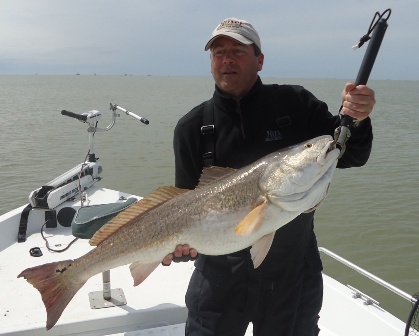 15 March 2014 Report
The inshore fishing around the mouths of the passes of the Mississippi River has been holding some nice Redfish. If the weather conditions allow you to move around some, so much the better. Late last week and into the weekend I took some guys from Indiana fishing for Redfish. Greg Elsperman brought his friends, Jeff and Shane down  to fish with me this time. They all fish a lot, and caught on to our way of fishing for Redfish around the cane lined bays and beaches. Cast, cast, cast. Mostly, popping corks with soft plastics underneath, and spinnerbaits. It was Jeff's and Shane's first time Redfishing, so they got a thrill out of their first strike by one. Shane's first Redfish went 22lbs. The first two days we were out we had a limit of slot Reds by mid morning, and then tried for some bigger fish. The last day we did not do as well on slot fish, so after catching some nice box fish we ended up in an area holding the big "BULL" Redfish. Greg caught the heaviest fish weighing 28lbs, but most were between 18-22lbs. These guys had a ball. They said they would return in the Fall.
The water temperature is around 43 degrees in the main channel of the river, so the Reds are on the outside areas where the water is warmer and saltier. The water temperature on the outside can be from 49 degrees to 60 something, depending on the depth, sunlight and other things. The fish are on the outside areas, and will be there until the river falls again in late Spring or Summer. As everything warms up the fishing will only get more consistant. The Summer months offer Redfish on topwater plugs more consistently, than cold weather. I still have openings for June and July….
Posted by:
Fish On Guide Service,LLC
Located in: Venice, LA Phone: 225-205-5353
Specializing in inshore saltwater light tackle fishing in the Venice Louisiana area.Fishing in the marsh and the Mississippi River. lodging available. Open all year.
PO Box 74 Boothville, LA 70038
See All Reports