bull redfishing in Venice louisiana
17 March 2014 Report
It's the time of year when it helps if you time your fishing trips when the weather is descent. That is way easier said than done. I fished this last Tuesday, Wednesday and Thursday with some gentlemen from Missouri in some weird weather conditions that tried to make it difficult for us. Hugh Wallace brought his good friends, Glen and Don down for some Redfishing. Day one we had heavy electrical storms heading toward us, so we stayed close until they hit. We headed back to the house to wait them out. In late afternoon we went back out close and fished churned up muddy water with no fish. The food was great though ( I have a French chef on hand: my wife!). Day two looked promising. I looked off the porch on the Mississippi River and there was no fog, and not much wind.  We got in the Scoobie Doo van and headed to the marina. We launched the boat and headed down river where we were greeted with heavy fog. We made it to where I wanted to go start fishing in the fog. Glen hooked up with the first Redfish weighing 28lbs. The fog lifted and it turned out to be a pretty good day on the big Reds. Everyone hooked up on some 20 plus lb. Redfish. These guys were not used to all the casting involved with fishing for the Redfish. They were used to dropping their baits over the side of the boat Walleye fishing. They were not used to the power of the Reds either. All these guys were probably around 70. They were pretty worn out the evening of day two. They said the food was great. Day three looked promising. No fog. We went down to an area that I thought would be fishable and the swells coming in were big, but we kept moving down the beach and things calmed down. As we headed down the beach, pretty green water surrounded us as the incoming tide came in. As soon as we started fishing the dolphin moved in on us. There must have been sixty dolphin swimming everywhere. I knew we had to leave and try elsewhere, but I would have to go a long way due to the swells coming in. We ended up way up north fishing the canes. It was tough on my guys fishing the canes because of the precision casting involved. We caught about 10 nice Redfish, missed a few, and caught a lot of cane. These guys were real gentlemen, and they said they caught a lot more Redfish here than they would have in Misssouri. They said the food was great. They loved the Redfish on the grill, but still left their catch with me because they did not want to deal with the fish on their flight home. I hope they come back again, because they were fun.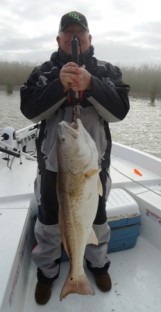 Posted by:
Fish On Guide Service,LLC
Located in: Venice, LA Phone: 225-205-5353
Specializing in inshore saltwater light tackle fishing in the Venice Louisiana area.Fishing in the marsh and the Mississippi River. lodging available. Open all year.
PO Box 74 Boothville, LA 70038
See All Reports