"Saturday Slayfest" The Tog bite is in full Swing!!!
Why get up at 6am…? the boys knew the bite window, went out by 11am…beat up the Tog…Limited out in less than 1 hour…and were back at the dock by 2:15 pm…
Capt. Skip was joined by Rich the Fireman, T-Rod Sr. and Jr. who all got into the insane slack tide bite on a beautiful day on the water…Tom Jr., who had never fished for Blackfish, got some quick instruction from his Dad, then wham..he had 1 nice Sea Bass and 2 4-6 lb. Tog before anyone else even had a hit…
But not long after, all on board were lock and load bailing the Tog….In all, the limit was caught very quick ,and numerous short were released…Nice Job Guys !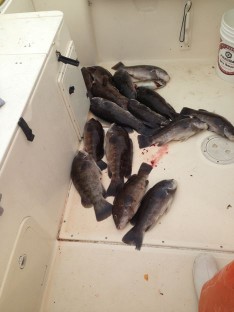 Posted by:
Pursuit of Bass Fishing Charters
Located in: Huntington, NY Phone: 516-238-6445
Pursuit of Bass Fishing Charters. Spend a morning, afternoon, or evening fishing with Capt. Skip Hartmann. He is a USCG licensed captain, and an incredibly dedicated sport fishing guide. Capt. Skip has been fishing the long Island Sound for over 40 years. Expect 100% effort on your trip as Pursuit of Bass Fishing Charters offers a variety of different charters departing from Gold Star Beach(Town of Huntington).Local pickups and dropoffs available!
See All Reports