Fishing Buddies Slay the Blackfish!!!
What a better way of spending a Saturday morning, than with a bunch of good friends, going out, slaying the Tog…The Blackfish bite is in full swing, and we have Ron, Steve, Donny, Tom, C,the Capt. and special guest, (Russian Cosmonaut) Sergio-Christoff Knockafishoff to prove it…
And thats just what they did..banging fish after fish, ranging from many shorts to their limit of 3-7 lb. Blackfish…Donny was ( as usual doing the yank and crank of some serious Tog, and all others joined in…
There were some nice Sea Bass and Porgy mixed in as well to make it an all round good trip, and lots of good dinners to come…Most of all is the fun and laughs all had on board !!! thanks for a fun day on the water !!!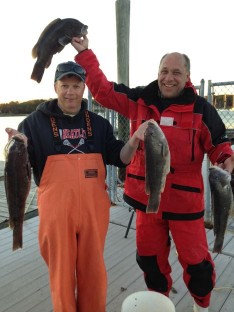 Posted by:
Pursuit of Bass Fishing Charters
Located in: Huntington, NY Phone: 516-238-6445
Pursuit of Bass Fishing Charters. Spend a morning, afternoon, or evening fishing with Capt. Skip Hartmann. He is a USCG licensed captain, and an incredibly dedicated sport fishing guide. Capt. Skip has been fishing the long Island Sound for over 40 years. Expect 100% effort on your trip as Pursuit of Bass Fishing Charters offers a variety of different charters departing from Gold Star Beach(Town of Huntington).Local pickups and dropoffs available!
See All Reports