Amazing non-stop Bass Bite
On a family trip from the Midwest to NYC, the Keeton family put down the their trout rods and gave some good ol' western sound live lining a try.  The 4 were treated to absolutely amazing and nonstop bass and bluefish action in the back of Manhassett Bay.  Boating over a dozen bass and too many bluefish to count, Logan was top hook with his first striper ever weighing in at a respectable 25 pounds.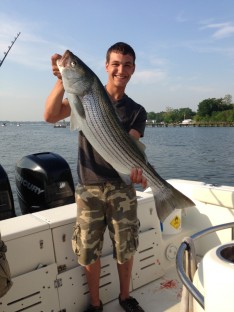 Posted by:
Long Island Fishing Charters
Located in: Port Washington, NY Phone: 516-502-8837
Long Island Fishing Charters - Spend a morning, afternoon or evening, with Capt Joby Vinarski (516-502-8837) or Captain Andy LoCascio (516-978-1634), host of the hit TV show Northeast Angling or some of the Northeast's finest and most experienced captains. Fish or just cruise the protected western Long Island Sound waters from Manhattan's East River to Connecticut. Sharpen your skills and learn about the techniques, tactics and gear used to catch the big fish. No prior fishing or boating experience is necessary! Now booking SPRING STRIPERS!
Manhasset Bay Marina 10 Matinecock Avenue Port Washington, NY 11050 (boat location only - do not send mail) Click here for directions
See All Reports