Gulf Stream off Southport,NC-Oak Island, NC 5/10/2013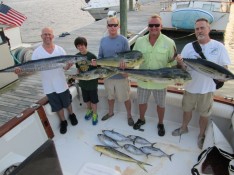 Finally the weather decided to cooperate with the fishermen today!  The Yeah Right II broke the Cape Fear Inlet this morning in time to capture the true beauty of nature as the sun came up!  Joining us were Jeff and Brandon Peacock of Kernersville, NC alongside Denver Compton of Rustburg, VA and Mike Neighbors of Goode, Va and Todd Willis of Lynchburg, VA on a Gulf Stream expedition!  It was mentioned on the way out that Denver would love to catch a Mahi-Mahi, well, shortly after the high speed lures were deployed, wouldn't you know it! Denver put his first Mahi in the boat!!!
​
With the football Blackfin Tuna jumping all around the boat I quickly switched up to a ballyhoo spread and within minutes Capt. Butch had adjusted the speed perfectly to attract a few Blackfin into our spread!  These were boated and lines reset, suddenly the Blue/White Laceration Lure on the prop-wash line began to scream! Todd jumped on the rod and it wasn't long til a nice 30lb Mahi found its way onto a gaff hook!   I can tell you from experience, the lures from Laceration Lures really do work, they make a ballyhoo swim perfectly and keep the bait from washing out all the while leaving 5-8ft bubble trails when it surfaces!  These lures are AWESOME!!!
​
A couple more strikes occurred and a few more small Blackfin Tuna were caught.  Then the next Mahi hit peeling off the line lightning fast!  Another hit and missed the Port outrigger line, as the nice sized Mahi neared the boat, Jeff had another slam a bait that he was reeling in helping clear the lines, then the gaffer was put in the boat only to see a couple more just like her were in the propwash!  Very exciting to see!  With several Tuna and Mahi in the boat the talk was "where are the Wahoo?!"  About 20 minutes later that question was answered with the line being peeled off the reel, Jeff sounded "this is a NICE fish!"  The Wahoo was a tough fight but no match for todays guys and the fish was put in the boat.
Till next time!  FISH ON!!
Posted by:
YEAH RIGHT CHARTERS
Located in: South Port, NC Phone: 910 845-2004
The Yeah Right II is a 34' twin diesel sportfisherman that is loaded with fishing gear and electronics to get you fish from nearshore all the way to the gulfstream. Captain Butch Foster has the experience and knowledge to get you the fish. He says that after 53 years on the seas he will "guarantee you fish on his 10 hour offshore trips or it cost you nothing*". Come fish on the charter boat that fishermen prefer and locals recommend and you too will see what it means when we say "FISH ON"!!! Thanks for fishing with us.
4909 Fish Factory Rd Southport, NC 29461
See All Reports