Orlando Area Flats Fishing Report
Mosquito Lagoon Fishing Guide – Tailing Redfish Fishing in Mosquito Lagoon during November offered some excellent sight fishing opportunities for redfish and large seatrout. Many of the redfish are in schools that range from 25 -200 fish. On calm days they can be found tailing on the shallow flats in search of crabs, shrimp, and marine worms. A school of tailing redfish is as close as you can get to a guaranteed bite. They will eat a variety of lures especially the DOA shrimp and the CAL series tails. The most important things is to use a quiet approach and do not land your lure in the middle of the school.
Big seatrout have been staging in sand holes and can be spotted on sunny days. The will respond to the same lures you use for redfish.
This is an excellent time of year for targeting redfish, trout, and drum with a flyrod. The two flies I use the most are the black redfish worm fly and a simple bendback pattern on #4 hooks. Casting is key and is far more important than fly selection.
November brought plenty of wind to the flats. The fish do not mind the wind and will still feed aggressively. Anglers, however, often struggle with their presentation when the wind is blowing. The toughest days were when there were clouds and wind making sight fishing virtually impossible. Under those conditions, blind casting in likely areas becomes the only option.
While redfish, seatrout, and black drum are the main species we will encounter for the next five months, there is always a chance to catch a flounder or two, especially in the northern regions of the Lagoon.
Jim fished with me on a clear but windy day last month. He had shots at redfish throughout the day and caught some using a golden bream colored CAL tail.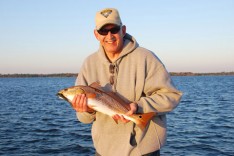 The next day brought some unseasonably cold temperatures but the redfish did not seem to mind a bit.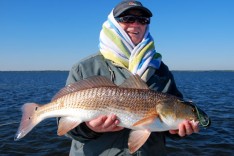 Ryan's first redfish cam on another cool morning from a school of several hundred fish.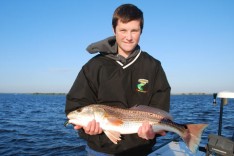 A three inch CAL tail was used to catch the first of Heather's several redfish and trout this week.
The next day, I was invited to fish with my friend Capt. Rick Grassett out of Sarasota, FL prior to my speaking engagement at the Mangrove Coast Fly Fishers Club. We fished the Gulf of Mexico sight fishing for tripletail. I caught a couple on fly but the larger fish would only follow, but not eat, my flies. I offered up a DOA shrimp which was quickly eaten by the two largest fish.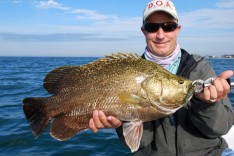 Yesterday the redfish were tailing and the winds were light. Gregg and Ed encountered over one thousand redfish in multiple schools as well as some quality seatrout in the sand holes.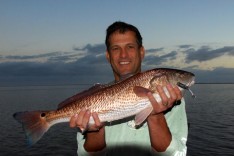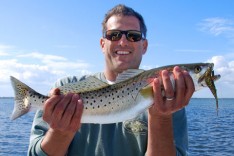 Here is Ed catching one of the smallest fish of the day.
The sight fishing for redfish and trout will be excellent during December. Clear water will allow anglers to spot the fish on sunny days provided they have polarized glasses. Copper colored lenses work best on the flats. On calm days, use small lures to minimize splash and avoid spooking fish.
Capt. Chris Myers
Posted by:
Central Florida Sight Fishing Charters
Located in: Titusville, FL Phone: 321-229-2848
Year round light tackle and fly fishing charters on the saltwater flats of the Mosquito Lagoon and Indian River Lagoon. Specializing in sight fishing for redfish and trout. All licenses, tackle and equipment provided. Located one hour from Orlando and Disney between Cocoa Beach and Daytona Beach
See All Reports