Fluke fishing improving
June 30 2012
Fluke fishing starting to fall into the summer norm now. Fished from the naval pier to the false hook and put together a nice catch of keeper fluke with the largest topping 4.5 lbs. Nice summer day on the water.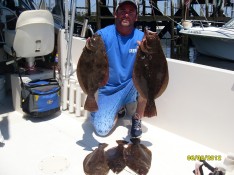 Capt. Karl PrimeTimeCharters
Posted by:
Prime Time Charters
Located in: Highlands, NJ Phone: 732-204-2763
Light tackle and fly fishing for 1 to 3 anglers in Sandy Hook area, Raritan Bay and coastal Monmouth county ocean waters. All fishing tackle is provided. Everything except food and drink is supplied. Bring a cooler for your catch, which we will clean, ice and package at no charge. The fishing grounds are just 15 to 20 min from the dock, which leaves plenty of fishing time.
Marina on the Bay Slip C-16 Highlands, N.J.
See All Reports