Monster Snook and Tarpon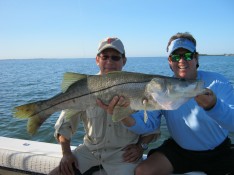 Capt. Rich Knox of Absolute Florida Flats Fishing and Guide Service, reports great monster Snook fishing in and around the Gulf Coast passes from Clearwater , Tarpon Springs,  New Port Richey barrier islands back to the main shoreline, and backwater estuary systems. Big hard fighting Snook to 44″ and 30 + lb. have been taking a variety of bait's depending where you find them pilchard's, threadfin herring, pinfish, pigfish and grunt's vigorously in between spawning modes, there are alot more fish showing than the past couple of years since our hard freeze. Big Tarpon as well are feeding heavily on the beach's pilchard's seem to be the bait of choice in my estimation, a full blown horse white-bait has worked best,  small blue crab's and thread-herring being the next best, it is good to stay off these big fish and make long cast's in front of them so not to spook them.  Give your fellow angler's plenty of room, when running the beach looking for rolling school's or pod's of,  Tarpon,  get well off-shore of the fishing skiff's that are stationary, patiently waiting for them to show. Remember what goes around comes around !
When fishing for some good table fair, Spotted sea Trout are here still although the big spring spawner's are gone there are plenty of slot fish around to have a fish fry, pilchard's and pinfish in the silver-dollar size seem to be producing best. Artificial bait enthusiast can fool some of the biggest of these in the early morning hours and late evening. Red-fish is good on the new and full moon period's around the mangroves and oyste bar's, look for them to be in the shade if they can get in there, uunderneath the bush's. Fish the shadow lines with white-bait or pinfish, cut ballyhoo work's well also.
Posted by:
Absolute Florida Flats Fishing
Located in: New Port Richey, FL Phone: 727-376-8809
Central Florida Gulf coast sportfishing guide service with Capt. Rich Knox. We fish for snook, redfish, seatrout, tarpon, cobia , Spanish macheral, kingfish and more all on light spinning tackle. Capt. Knox is a tournament winning guide who will help you catch a memory!
Anclote Village Marina 1029 Baillies Bluff Rd. Holiday, Fl. 34691
See All Reports