JUNE 18, 2012 – Stripers & Blues
Jim Masters and his crew boarded Big Boy II at 6 AM for a day of Bass and
Blues
fishing. They have been fishing with Big Boy Sport Fishing Charters for many years, but this time they brought along their young son for his "Fishing Initiation…". This young man didn't give up and wrangled his first fish to the back of the Big Boy II – a 30 pounder none the less!!! The smile on his face, and the pride in his father's eyes will not be forgotten anytime soon, and just makes us realize even more than we already knew that there is no better way for a family to spend time together, and that "Water IS Life". Let's Go Fishing!!!! Captain W. Duane Sousa, Jr. and Family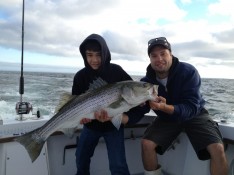 Many thanks to Jim Masters and his family for allowing us to spend a great day on the water with them….can't wait to do it again. And special thanks to Jason Sousa, First Mate, for all his hard work…..we are proud to be a Family Owned and Operated business.
Posted by:
Big Boy Sport Fishing Charters
Located in: Narragansett, RI Phone: (401) 258-2157
We are a family owned and operated Fishing Charter Boat and Guide Business Fishing Rhode Island Block Island Inshore Offshore. 30' CHRIS CRAFT Safe, Clean, Relaxing, Fast. Shark Fishing, Tuna Fishing, Striped Bass Fishing, Light Tackle Fishing, Live Bait Fishing.
2 State Street "SS" Dock Narragansett, RI 02882
See All Reports