Oh Yea…Rick with a nice evening Bass!
Some of the regulars went out for an evening Bass bite…some had luck…others were disappointed!!   Trolling Stripers was not a problem, but the jig bite was very strange!
Capt. Skip started the jig bite off well with the 1st..4-5 Bass…Rick soon followed with some nice fish and a real nice 20 lb. class Bass.
2 others on board were in reverse tonight, as they had no Bass bite what so ever. The boat again managed their limit of Bass and many throwbacks…Some were the teachers tonight, and others got schooled!!!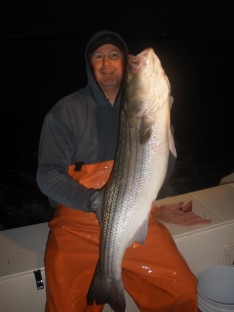 Posted by:
Pursuit of Bass Fishing Charters
Located in: Huntington, NY Phone: 516-238-6445
Pursuit of Bass Fishing Charters. Spend a morning, afternoon, or evening fishing with Capt. Skip Hartmann. He is a USCG licensed captain, and an incredibly dedicated sport fishing guide. Capt. Skip has been fishing the long Island Sound for over 40 years. Expect 100% effort on your trip as Pursuit of Bass Fishing Charters offers a variety of different charters departing from Gold Star Beach(Town of Huntington).Local pickups and dropoffs available!
See All Reports