Mothers day San Diego fishing report
The Kruse family booked a half day shark fishing trip on Mothers day. It was a productive morning we hooked two makos. We got one back to the leader for release after some jumping and a great fight! The other shark tossed the hook right after a big jump.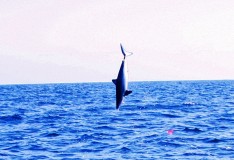 San Diego's best shark fishing is in the summer months. We have big numbers of makos every summer. The ride to the fishing grounds is usually less than an hour, so you have a high percentage chance on catching one even on our half day trips!  For more info check out our site.
Posted by:
California Shark Fishing
Located in: San Diego, CA Phone: 928-380-4504
We specialize in catch and release shark fishing for mako, thresher and blue sharks. San Diego offers year round shark fishing opportunities for a variety of species. All of our guides are professionally licensed and insured and have years of West coast shark fishing experience. We are also available for bay and inshore fishing charters, as well as offshore and overnight trips for tuna and marlin.
2580 Ingraham St., San Diego, Ca 92109
See All Reports