Fort Lauderdale Fishing on Happy Day Today with Capt. Zsak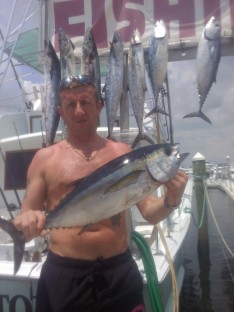 Winds out of the east, southeast at 8-15 mph, blue skies, beautiful weather here in sunny Ft. Lauderdale FL.  John Copeland from Scotland, who was visiting his relatives living here in Fort Lauderdale, chartered the Happy Day Today along with the Topshotfishing team to do some deep sea sport fishing.
We left the dock at Bahia Mar in Fort Lauderdale FL, and fifteen minutes later we were at the sea buoy sitting in 120 ft. of water.  We had two planers down, both with sea witches, one with a blue and white sea witch and the other with a pink and blue sea witch in front of a double hook Bonito strip.  For surface baits we had four Ballyhoos.  Our first strike came on one of the plainer rods producing a nice 12 lb. Kingfish.  Before he could bring the fish to the boat, the other plainer rod had a fish on.  That one produced another nice size Kingfish.  I could see some birds working the area to the east of where I was.  I started to head towards the birds and the plainer rod had a fish on again – another 10 lb. Kingfish.  When I got to the area where the birds were working, I could see the flying fish being chased.  Fish on the right long!!!!  Fish on the left short!!!  Two fish on with just one angler – John had his hands full again.  The two 15 lb Bonitos were brought to the boat by John.  As he was about to sit back down on the chair, the left long got a strike.  As line screamed off the reel, we knew this would be a good size fish – a nice size 25 lb. Tuna.
Posted by:
Top Shot Sportfishing
Located in: Ft. Lauderdale, FL Phone: 954-309-7457
Fort Lauderdale charter boat "Happy Day Today" is a 46' Hatteras with twin Detroit Diesel power cruising at 18 knots. On your charter, we are able to run offshore to deep water to target the bite or whatever it takes to make sure your Fort Lauderdale fishing charter is a successful and fun experience.
See All Reports