Fort Lauderdale Fishing on Happy Day Today with Capt. Zsak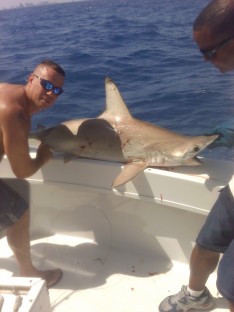 Boys weekend off – Scott Cusick from NJ, Bob Urie and Eric Laubach from PA chartered the Happy Day Today along with the Topshotfishing team to do some deep sea fishing here in Fort Lauderdale FL. A 20% chance of rain, wind out of the
east, southeast, 10-15 mph, blue skies – a typical gorgeous day here in Fort Lauderdale.
We left the dock and in 20 minutes lines were in the water.  I headed out to one of the 34 artificial wrecks we have in Fort Lauderdale FL to set for Shark fishing.  We had one bait on the surface, one midrange and one on the bottom in 350 feet of water, and a kite out with two live Goggle Eyes.  Our first fish was an 8 lb. Mahi Mahi from the long left kite.  Eric was the angler and was happy to catch tonight's diner.  As the guys were discussing business and where they were off to next weekend, the deep rod bent over.  The line peeled off the reel at a high speed tone, and at the same time, line on the surface bait started going out.  A double header!!!!!! Two Sharks on at the same time!!!!!  Bob and Scott were the anglers.  Both Sharks headed in opposite directions causing a Chinese Fire Drill, and our mate, Jackson, untangled the lines very quickly to put us back in a fighting position.  Forty-five minutes later, the bottom fish appeared – a Hammerhead Shark in the 250 lb. range – and Bob brought him to the boat.  Pictures were taken and the Shark was released.  With a smile on Bob's face, it was Scott's turn to bring his fish in. Scott brought the Shark to the side of the boat after a long battle – again pictures were taken and the Shark was released.
Posted by:
Top Shot Sportfishing
Located in: Ft. Lauderdale, FL Phone: 954-309-7457
Fort Lauderdale charter boat "Happy Day Today" is a 46' Hatteras with twin Detroit Diesel power cruising at 18 knots. On your charter, we are able to run offshore to deep water to target the bite or whatever it takes to make sure your Fort Lauderdale fishing charter is a successful and fun experience.
See All Reports