Cape Cod Bay
On Sunday we had an eight-hour trip with Juan and his team. We left the dock at 8am and headed right to the north edge of Billingate Shoals. As we were steaming we could see a few charter boats making the long run across the bay to P-Town. We fished the edge for about an hour with umbrella rigs (red with silver spoons) and could not find anything on the top or mark anything under us. We them made the run to Barnstable, near the bell can. We hit that area again with the rigs and again nothing. We got word that on Saturday it was good in front of the "Church" which is located off the Brewster Flats.
Upon arrival and a few other charter boats, we put the rigs out. We pounded this area for over two hours and nothing. The only good thing was that the other boats were also pitching a shut out. Well I told the crew, saddle up and off we went to Provincetown. Heck it was the only spot we had not hit !!!
We started at the bathhouse in 30 feet of water and worked east and west. We had great marks so we felt this our luck was going to change. Well it did, the reels started to scream and so did everyone else. First fish in the boat and nice 16-pound striper. We got them out again, umbrella rigs, and again things stayed heated up. We had great marks under us and the reels would go off right after. At the end, we had three nice keepers as well as we tossed some beautiful stripers back for another fight.
We set the Furuno GPS for home, Northside Marina and settled in for a nice calm relaxing trip home. As we were heading back, I could only think about the thought of a "Shut Out"..and only felt that was good in Baseball !!
As we tied up at the dock, we all agreed the day ended perfectly and as Juan said …"Its not how you start, its how you finish"….
If you are looking to get out for a great day of fishing and long lasting memories, give me a call…. Stay safe and think…Screaming drags !!!!!
Capt. Mark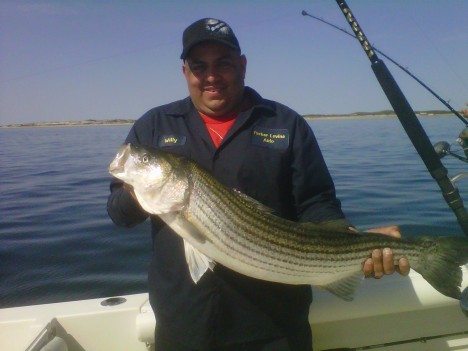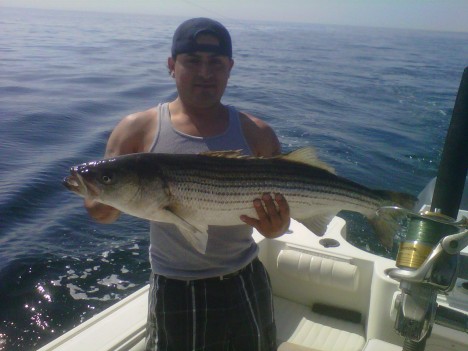 Posted by:
Shannon Sea Sport Fishing
Located in: Dennis, MA Phone: 774-353-6132
You will be fishing the waters of Cape Cod Bay in a Sailfish 26ft CC. You will leave Northside Marina, (Sesuit Harbor Dennis Ma.) and either travel to Barnstable Harbor, Billingates Shoals, or to Provincetown. We will be targeting Stripe Bass, Blue fish or Tuna. All gear is provided for you. Your catch will be cleaned iced and bagged for you , should you want to keep your fish. Photos are taken during your trip and posted on our website or on our Facebook page. Please look at our website for more detailed information.
See All Reports