Fort Lauderdale Fishing on the Happy Day Today with Capt. Zsak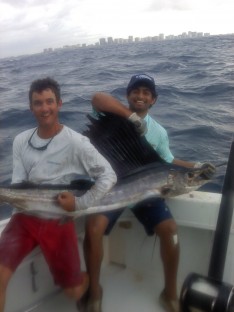 Mr. & Mrs.Chacko and son and daughter, chartered the Happy Day Today, to do some deep sea fishing along with the Topshotfishing team.  Another typical gorgeous day here in Fort Lauderdale FL – winds out of the east, northeast, 10-15 mph, seas 3-5 ft.  Ben and his sister, Reeba, were on their spring break from college with their parents.
We started off trolling on the edge of the drop off in 120 ft. of water with one plainer down with a pink sea witch in front of a double hook Bonito strip, followed by four Ballyhoos for surface baits and a dredge for a teaser.  I trolled towards an artificial wreck sitting in 175 ft. of water north of the sea buoy in Fort  . On our way there, our first fish was a Mahi Mahi weighing 7 lbs.  I noticed a board floating in the water – as I approached the board, I could see a couple of Mahi Mahi's swimming by the board, and we caught those.  From there we kept trolling to the north of Fort Lauderdale FL to an area we call "The Palms".  We put up two kites, with two live Goggle Eyes from each kite and one Goggle Eye from the rigger and sat waiting for his arrival (Sailfish).  The next couple of fish we caught from the kites were Mahi Mahi's.  Then the black shadow appeared, right short, dorsal out of the water, as he attacked the live bait.  Before he could exit the water, another Sailfish appeared on the left short.  Double Header – two Sailfish on at the same time!!!!!  Ben and his sister were the anglers; they were fit and willing to take on the fight.  The first Sailfish to come to the boat was Ben's – measuring 83" long. Reeba's Sailfish was next.  Thirty-five minutes later, the Sailfish was brought to the boat, measuring 92" long.
Posted by:
Top Shot Sportfishing
Located in: Ft. Lauderdale, FL Phone: 954-309-7457
Fort Lauderdale charter boat "Happy Day Today" is a 46' Hatteras with twin Detroit Diesel power cruising at 18 knots. On your charter, we are able to run offshore to deep water to target the bite or whatever it takes to make sure your Fort Lauderdale fishing charter is a successful and fun experience.
See All Reports