Fort Lauderdale Fishing on Happy Day Today with Capt. Zsak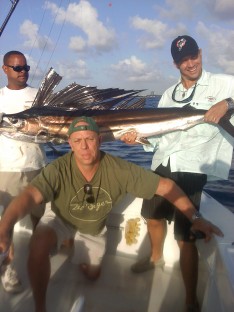 Heath Hook from Dallas, Texas and friend John chartered the Happy Day Today along with the Topshotfishing team to do some deep sea fishing off of Fort Lauderdale FL.    Mr. Hook had a request to catch Sailfish, so our first step was to purchase some live Goggle Eyes from T&T Bait.
Twenty minutes from the dock put us at the edge of the drop off in 120 ft. of water at the sea buoy in Fort Lauderdale FL.  At this time of the year, Sailfish are migrating south.  With little to no wind, we put up extra light kites with 20 lb. test kite rods with two live Goggle Eyes from each kite.  Even still, it was extremely difficult to fly the kite, so we decided to pull the Goggle Eyes from the rigger instead.  Fifteen minutes later, the winds picked up enough to go back to Plan A and fly the extra light kites.  We had a couple of Kingfish chop off's and afterwards caught a couple of Mahi Mahi's in the 5-8 lb range.
Sailfish left long – Finally the Sailfish we were waiting for showed up.  With line screaming off the rod, fish heading south, we had to clear both kites and all the other fishing lines to concentrate on the hooked Sailfish.  I started backing down on the fish to retrieve the line.  With double line on the reel, Jackson, our mate, started to wire in the Sailfish.  Immediately, the fish came out of the water, doing a 360° jump 30 ft. from the boat.  "What an incredible sight!!!" – remarked Mr. Hook.  Pictures were taken and the Sailfish was released.
Posted by:
Top Shot Sportfishing
Located in: Ft. Lauderdale, FL Phone: 954-309-7457
Fort Lauderdale charter boat "Happy Day Today" is a 46' Hatteras with twin Detroit Diesel power cruising at 18 knots. On your charter, we are able to run offshore to deep water to target the bite or whatever it takes to make sure your Fort Lauderdale fishing charter is a successful and fun experience.
See All Reports