Fort Lauderdale Fishing on Happy Day Today with Capt. Zsak
I had special guests on board the Happy Day Today for a deep sea fishing charter out of Fort Lauderdale FL– Paula DaSilva, finalist on the Fox TV's Hell's Kitchen and Executive Chef of the world renown Eden Roc Renaissance Hotel Restaurant, 1500°,  http://www.1500degreesmiami.com/ along with Sous Chef Tony Velazquez and Adrienne Grenier and friends.
It was another typical gorgeous day here inFort LauderdaleFL, temperature in the low 80's, sunny, winds out of the southeast 5-7 mph.  Our main objective was to catch eating fish, specifically Mahi Mahi's and Whahoo's.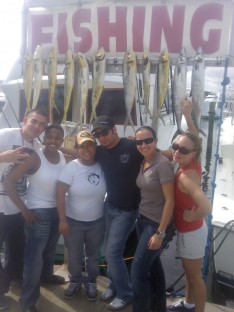 After leaving the dock at Bahia Mar, within 15 minutes lines were in the water in 120 ft. deep at the Fort Lauderdale sea buoy.  We put two planers down, one with a 3 ½ blue reflector drone spoon and the other with a pink sea witch in front of a Bonito strip.  Four Ballyhoos covered the surface baits.  Our first fish was a King fish in the 8 lb class that was caught on the blue reflector drone spoon.  From there another King fish was added to our fish box.  I could see birds were working the area east of Fort Lauderdale's drop off, so I headed towards that spot.  Once we got to the area, the first fish caught was a Mahi Mahi on the surface bait, weighing in at 9 lbs.  We kept picking away at more Mahi Mahi's as we worked the area, which sat over one of 34 artificial wrecks that sits off of Fort Lauderdale FL in 280 ft. of water.  The whole group took turns bringing in the Mahi Mahi's.  With 10 Mahi Mahi's and two King Fish in the fish box, we went in search of the Wahoo, but there were none to be found that day
Posted by:
Top Shot Sportfishing
Located in: Ft. Lauderdale, FL Phone: 954-309-7457
Fort Lauderdale charter boat "Happy Day Today" is a 46' Hatteras with twin Detroit Diesel power cruising at 18 knots. On your charter, we are able to run offshore to deep water to target the bite or whatever it takes to make sure your Fort Lauderdale fishing charter is a successful and fun experience.
See All Reports