January between the Fronts!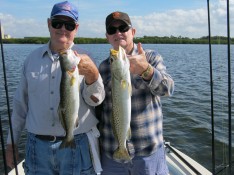 ABSOLUTE FLORIDA FLATS FISHING went on a saltwater flats fishing charter on Thursday January 12th with the Thomas brothers, Clyde from SanFrancisco visiting Gordon who lives here on the west central Florida gulf coast in Lecanto, the brothers get together a few times a year and usually do some inshore flats fishing. We left the dock at 8 am. as we were a few days after the full-moon, I had already caught a few dozen pinfish so we'd have some live bait, and headed south to Clearwater to catch the beginning of the incoming tide, we started out fishing some deeper water drop-offs 1 with a live bait and 2 of us throwing artificial lures so we could cover a good piece of flats fishing at low to incoming tide 3′ to 7′ of water, the 1/4 oz. jigs began the action using a combination of baitfish and shrimp imitations, some nice Spotted Sea Trout, they were spread out or maybe even moved off us after catching a few, these fish were in the upper teens to 20″.
So each spot would yield a few fish then we would have to try other options, the day turned out to be a beautiful day, as the day before we had winds to 35 mph gusts and 1.2″ of well needed rain, but the air temperature was still 58* F in the morning, at Anclote Village Marina in Tarpon Springs, water temp was 65* F. We fished our way back to the north with a good incoming tide, we switched to Berkley Jerk-shads 7″(weed less) and mirrolure mirro-dine, there was a little too much floating grass so we put up the plugs! We began to move up and onto the fishing flats near Tarpon Springs, the sun was up high so too could see real-good, as was the Spotted Sea Trout fishing, we caught our biggest fish to 25″ ,5-6 lb., at the of the 1/2 day fishing trip, the temperature was 74* F and the brothers ended up with their limit of trout, tomorrow the reinforcing front will come through with high winds and cooler temperatures, after which hopefully the nice mild winter we are having here in Florida will continue !
Posted by:
Absolute Florida Flats Fishing
Located in: New Port Richey, FL Phone: 727-376-8809
Central Florida Gulf coast sportfishing guide service with Capt. Rich Knox. We fish for snook, redfish, seatrout, tarpon, cobia , Spanish macheral, kingfish and more all on light spinning tackle. Capt. Knox is a tournament winning guide who will help you catch a memory!
Anclote Village Marina 1029 Baillies Bluff Rd. Holiday, Fl. 34691
See All Reports