Fort Lauderdale Fishing with the Happy Day Today and Capt. Zsak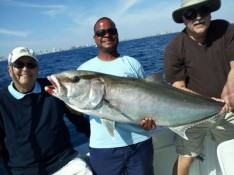 Jim and Richard from Texas chartered the Happy Day Today last week out of Fort LauderdaleFL
The weather was absolutely perfect – clear skies, crystal blue water with the temperature in the 70's. We started out fishing for Mahi-Mahi, King Mackerel and Barracuda by using Ballyhoo surface baits and two deep baits. We fished in 100' of water out to 200' of water until we finally found a nice rip off the reef line.  It took over an hour before we caught our first fish which was a 12 pound Bonito. We continued to troll and caught another Bonito which was about half the size of the first one. In the last hour of fishing, we trolled to a wreck which is located in 230' of water located off Sunrise Blvd out of Fort Lauderdale. Just before we arrived to the wreck, we caught a King Mackerel on a deep line which was a sea witch with a strip.
About three hours into the trip, we were on the wreck. The first bait dropped was a Blue Runner, with a 20/0 circle hook and 40 foot leader.  Within five minutes a stud Amberjack jumped all over the bait. Jim fought the Amberjack for around 30 minutes and we got the fish in the boat by using a lip gaff, got the circle hook out and de-pressured the Amberjack (because the fish fills with air as they raise up from 200+ feet down). The air was squeezed out of the fish, got some photos and we released the fish safely to swim away just fine to aFort Lauderdale wreck.
Posted by:
Top Shot Sportfishing
Located in: Ft. Lauderdale, FL Phone: 954-309-7457
Fort Lauderdale charter boat "Happy Day Today" is a 46' Hatteras with twin Detroit Diesel power cruising at 18 knots. On your charter, we are able to run offshore to deep water to target the bite or whatever it takes to make sure your Fort Lauderdale fishing charter is a successful and fun experience.
See All Reports