Fort Lauderdale Fishing with Happy Day Today & Capt. Tom Zsak
Mr. Mark Weiss from Manhattan got a reprieve from the weather in New York and came down to Fort Lauderdale FL with his children to enjoy our 80 degree temperature, and do some deep sea fishing on the Happy Day Today with the Topshotfishing team.Winds out of the east at a steady 15 mph, seas 3-5 ft. – the same weather pattern holding for the past three weeks.  With winds blowing over the Gulfstreampushing the indigo waters all the way in, past the drop off, which sits in120
ft. of water, 1.8 miles from shore at the sea buoy in Fort Lauderdale FL.  His daughter, Rachel, 9 years old, and son, Weiss Jr., 6 years old, were excited about going fishing out into the ocean. An outgoing tide and a head-on wind made for a roller coaster ride going out of the inlet, to the delight of the children.
For surface baits we had three Bonito strips, two with sea witches in front and one with a blue and white ½ ounce jap feather and two Ballyhoos.  For our deep line, we had a #8 plainer and a 3 ½ blue reflector drone spoon.  For a teaser we had a Ballyhoo dredge.  It did not take long before our first bite came, a 7 lb King fish on the plainer, followed by a couple of Bonitos on the surface baits and some good size Mahi Mahi's, with Rachel catching the biggest Mahi Mahi.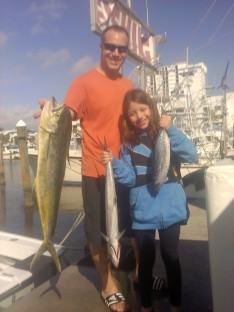 Posted by:
Top Shot Sportfishing
Located in: Ft. Lauderdale, FL Phone: 954-309-7457
Fort Lauderdale charter boat "Happy Day Today" is a 46' Hatteras with twin Detroit Diesel power cruising at 18 knots. On your charter, we are able to run offshore to deep water to target the bite or whatever it takes to make sure your Fort Lauderdale fishing charter is a successful and fun experience.
See All Reports