Fort Lauderdale Fishing on the Happy Day Today with Captain Tom Zsak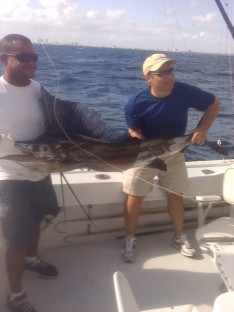 A cold front has come down pushing Sailfish and Mahi Mahi down the coast of Fort Lauderdale FL. Winds out of the north, northeast at 12 to15 mph, seas running 3 to 5 ft. and deep blue water in on our 2nd reef.
Jim Scott and friends from North Carolina chartered the Happy Day Today, along with the Topshotfishing team for a deep sea fishing trip.  Jim and friends on board we set out to do some kite fishing with live bait Goggle Eyes.  Two kites were set out with 4 live Goggle Eyes as bait, waiting for the Sailfish to make his appearance.   The first fish caught was a 6 lb. Mahi Mahi; then a couple more were hooked on the left kite, the longer of the two baits, Jim and I noticed a dorsal fin coming out of water, circling the bait, but it did not eat the bait. We call them "window shoppers".  The Sail approached the bait, circled and slowly swam off. As a fisherman and fishing out of Fort Lauderdale for a long time, this is never a good feeling.  At first your heart rate jumps and the fish is there on your bait, then the Sail slowly fades off and does not feed – happens to all of us, not that often, thankfully.
The next Sailfish popped up about 25 minutes later, this Sail had no hesitation; the fish grabbed the Gog, started peeling off line and was jumping out of the water like a bat out of hell, he put on a spectacular show. Twenty minutes later, the Sailfish was reeled to the side of boat for picture taking and released, swimming away. We release all of our Sailfish off Fort Lauderdale to catch another day.
Posted by:
Top Shot Sportfishing
Located in: Ft. Lauderdale, FL Phone: 954-309-7457
Fort Lauderdale charter boat "Happy Day Today" is a 46' Hatteras with twin Detroit Diesel power cruising at 18 knots. On your charter, we are able to run offshore to deep water to target the bite or whatever it takes to make sure your Fort Lauderdale fishing charter is a successful and fun experience.
See All Reports