Fort Lauderdale Fishing on Happy Day Today with Capt. Zsak
Mr. John Right and friends from South Carolina chartered the Happy Day Today, along with the Topshotfishing team here in Fort Lauderdale FL.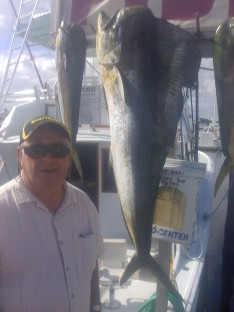 We had sunny skies, temperature in the mid 70's and winds out of the south, southeast at 12 mph.  Mr. Right requested to catch a Mahi Mahi, so I started trolling at the sea buoy in Fort Lauderdale that sits in 120 feet of water (1.8 miles from shore) where the drop off starts.  For top surface baits, we had 4 Ballyhoo's, a jap feather down the center rigger and one plainer down with a # 3 blue drone spoon.  While trolling we caught a couple of King Fish.  I trolled to the north of Fort Lauderdale to some freighter ships that were anchored in 350 ft. of water – I felt this was a good place to find some Mahi Mahi's. The first fish hooked was a 7 lb. Tuna – not a big one, but great for Sushi. As I trolled to the other ship, I could see some birds working the area.  All at once four Mahi Mahi's were hooked up on the surface baits with lines going under and over each other, winding up with 4 Mahi Mahi's in the fish box. We kept trolling picking away at more Mahi Mahi's, and then the right fish came along – a 23 lb. Mahi Mahi.
Posted by:
Top Shot Sportfishing
Located in: Ft. Lauderdale, FL Phone: 954-309-7457
Fort Lauderdale charter boat "Happy Day Today" is a 46' Hatteras with twin Detroit Diesel power cruising at 18 knots. On your charter, we are able to run offshore to deep water to target the bite or whatever it takes to make sure your Fort Lauderdale fishing charter is a successful and fun experience.
See All Reports