Fort Lauderdale Fishing on Happy Day Today with Capt. Zsak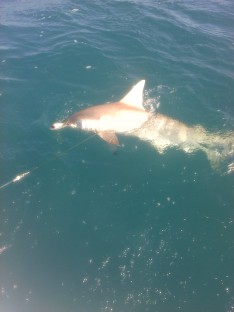 John Kivleham from Rhode Island with family and friends chartered the Happy Day Today along with the Topshotfishing team for their second deep sea fishing charter this week.
As we cleared the jetties in Fort Lauderdale FL, the water conditions and current were right, so I started off by doing some trolling on the reefs. One of my favorite artificial reefs, which sits in 84 ft. of water, is called the Marriot Airplane – back in 1989 the Marriot donated a cargo plane to the Fort Lauderdale Artificial Reef Association.  We had two planers down, one with a #3 blue reflector drone spoon and the other with a double hook Bonita strip and a blue & white sea witch in front.  For surface baits we went with four Bonita strips with different color sea witches and a green and yellow jap feather down the center outrigger.  We fished around the wreck catching King Fish – one after the other – winding up with 11 King Fish in the 5-8 lb class.
From there I moved out to 350 ft. of water to do some Shark fishing.  An early migration of Sharks has started in Fort Lauderdale FL, with three Sharks caught so far in two charters.  We had two live Goggle Eyes from the kite, one fresh King Fish for surface bait and one fresh King fish for bottom bait, and waited for the Shark's arrival. Our first bite came from the bottom bait rod – after a 30 minute battle, the angler brought in a 7' Golden Hammerhead.  Pictures were taken and the Shark was released.  We just put the bait back down on the bottom when the surface King Fish bait from the outrigger snapped out.  The line exited the 80 International Reel at a fast speed – we cleared all other lines so I could back down on the fish while the angler worked his fish.  Thirty-five minutes later, the angler's reward was 150 lb Bull Shark, which was released.
Posted by:
Top Shot Sportfishing
Located in: Ft. Lauderdale, FL Phone: 954-309-7457
Fort Lauderdale charter boat "Happy Day Today" is a 46' Hatteras with twin Detroit Diesel power cruising at 18 knots. On your charter, we are able to run offshore to deep water to target the bite or whatever it takes to make sure your Fort Lauderdale fishing charter is a successful and fun experience.
See All Reports