Fort Lauderdale Fishing with the Happy Day Today and Captain Tom Zsak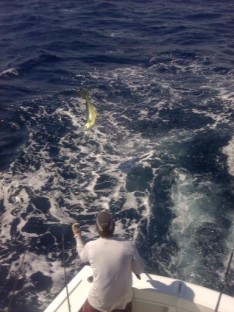 The past couple of days here in Fort Lauderdale FL the winds have been out of the north east at 15-20 mph, seas running 5-6 ft. with occasional 8 footers, making it quite sporty.  These northeast winds blew the blue waters closer into the reef accompanied by sargassum weed.  These conditions have allowed us to have the best Mahi Mahi fishing all year long. Mahi Mahi's have been running from 5-25 lbs. mixed in with an occasional Wahoo, if you are fortunate enough to find boards floating in the weed lines.
Russel Grant and friends from Rhode Island incorporated a business trip with a Thanksgiving weekend of deep sea fishing by chartering the Happy Day Today along with the Topshotfishing crew.We had a mixture of Ballyhoos and Bonito strips for surface baits, a squid teaser out on one side and a plainer with a 3 ½ blue reflector drone spoon on the other side.  A blue reflector drone spoon is one of the best methods for catching a variety of fish – Kings, Tunas, Mahi Mahi's, etc.
Our first strike was a double header Mahi Mahi in the 8-10 lb. class, followed by a nice Bull weighing 25 lbs.  We kept picking away at Mahi Mahi's, with a couple of nice Black Fin Tunas, and Mitch, our mate served some nice Sushi to Russel and friends.
With a good catch of fish on the charter boat Happy Day, it was time to start heading back.
Posted by:
Top Shot Sportfishing
Located in: Ft. Lauderdale, FL Phone: 954-309-7457
Fort Lauderdale charter boat "Happy Day Today" is a 46' Hatteras with twin Detroit Diesel power cruising at 18 knots. On your charter, we are able to run offshore to deep water to target the bite or whatever it takes to make sure your Fort Lauderdale fishing charter is a successful and fun experience.
See All Reports