Fort Lauderdale Fishing w/Capt. Mike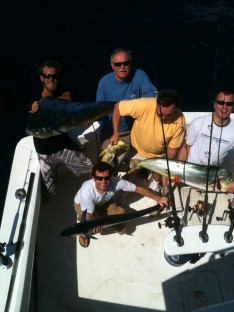 December is such a special time of the year and I'm not just talking about the holidays. December brings more and more cold fronts, which continue to push hoards of bait down the South East Florida Coast Line and right with them feeding at will are a couple of worlds greatest game fish, the Sailfish and the Mahi Mahi. Both of these fish have made a strong showing so far this month with multiple hook ups and catches being the norm. Bill, Steve, Marty,and Brian from Clearwater and Toronto had an incredible catch of Mahi Mahi with us back on the 5th. We started of trolling just off the edge of the reef in about 150 feet of water and no sooner had the baits in the water and we had fish on. After Bill and Marty caught their two Mahi we got the lines out fast and Brian was rewarded with a nice mahi as well. A little bit of time passed with out any more bites so we made the switch to kite fishing. I'm so glad we did, once Brendan our deck hand got the baits out it was only a short wait before we were being assaulted by mahi mahi. We had a couple on the left long, a couple on the right short and a couple swimming around the back of the boat. We managed to catch three more and miss a couple more before calling it a great day. Most of the fish were on the larger side with a few schoolies mixed in, everyone caught fish and everyone went home happy!
Capt. Mike
Posted by:
Fish Local Knowledge
Located in: Ft. Lauderdale, FL Phone: 954-522-4773
Fish Local Knowledge is Fort Lauderdale's premier charter boat. The Local Knowledge is a custom Hatteras Sportfish with cold AC, tournament tackle, experienced and courteous crew specializing in 1/2, 3/4, all day charters.
1005 Seabreeze Blvd Fort Lauderdale, Fl 33316
See All Reports