Fort Lauderdale Fishing on Happy Day Today with Capt. Zsak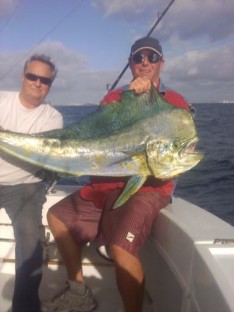 The Happy Day Today received a surprise visit from Captain Dan Duhamel of Paul's Boat Lines LTD from Ottawa, Ontario and three of his captains, Pat, Lou, and Jack to take a busman's holiday.
With favorable winds out of the east northeast at 10-15 mph, blue waters still pushed in for the past five days on the second reef and Sailfish action still good, the angler's choice was to catch Mahi Mahi's.  As we got close to the sea buoy that sits in 120 ft. of water, two plainers went out for deep rods; for outrigger baits we had four Ballyhoos and the center rigger had a blue and white ¼ ounce jap feather with a Bonito strip; we also had two teasers, one of which was a dredge.
I headed to one of the artificial wrecks that sit in 350 ft. of water.  Our first bite was from the right rigger and was a nice Black Fin Tuna. I kept circling the wreck, picking away at more Black Fin Tunas.  I could see off in the distance a slick on the water and where there is a slick, there is usually sargassum weed.  As I got closer to the sargassum weeds, I could see a couple of birds working the area, which is a good indication of fish.
Captain Pat brought it the first Mahi Mahi of the day, followed by all the rest of the captains taking turns and catching more Mahi Mahi's   Captain Lou brought in the biggest Mahi Mahi of them all – a 38 lb. Bull – a real beauty.
With a good catch of fish on the charter boat Happy Day Today and the Topshotfishing team, it was time to start heading back from our offshore trip.
Posted by:
Top Shot Sportfishing
Located in: Ft. Lauderdale, FL Phone: 954-309-7457
Fort Lauderdale charter boat "Happy Day Today" is a 46' Hatteras with twin Detroit Diesel power cruising at 18 knots. On your charter, we are able to run offshore to deep water to target the bite or whatever it takes to make sure your Fort Lauderdale fishing charter is a successful and fun experience.
See All Reports