Fort Lauderdale Fishing on Happy Day Today with Capt. Tom Zsak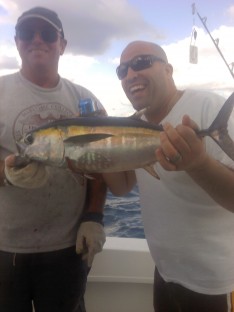 Three guys from New York City, Ed, Mark and Jack, ventured down to sunny Fort Lauderdale FL to charter the deep sea fishing boat, Happy Day Today, with the Topshotfishing team.
As we left the dock at Bahia Mar to do some sport fishing off of Fort Lauderdale FL, Mark expressed a desire to take back some eating fish, preferably Mahi Mahi, even though Sailfish has been excellent this past week.  A stiff wind out of the
north at 10-15 mph and seas 3-5 ft. was the setting for our fishing charter.
We slowed the boat down to put our fishing lines out at the sea buoy which sits in 120 ft. of water. Our deep line consisted of a double hook Bonito strip with a pink and blue sea witch in front.  For surface baits we had four Ballyhoos, two of them with chin leads, and a red and white quarter ounce jap feather for the center rigger plus a surface squid teaser.
I headed out to one of our 34 artificial wrecks sitting off of Fort Lauderdale in 385 ft of water.  Our first bite was a Mahi Mahi on one of our surface baits and Ed was the angler, followed by a couple more Mahi Mahi's, satisfying Mark's request.  A bit further south I trolled towards a schools of birds working some bait fish, but before we could get there, our plainer rod went off, and Mark reeled in a good size Black Fin Tuna.  We kept working the area and wound up with eight Black Fin Tunas, four Mahi Mahis and four Bonitos.
With a good catch of fish, it was time to start heading back from our offshore trip.
Posted by:
Top Shot Sportfishing
Located in: Ft. Lauderdale, FL Phone: 954-309-7457
Fort Lauderdale charter boat "Happy Day Today" is a 46' Hatteras with twin Detroit Diesel power cruising at 18 knots. On your charter, we are able to run offshore to deep water to target the bite or whatever it takes to make sure your Fort Lauderdale fishing charter is a successful and fun experience.
See All Reports