Fort Lauderdale Fishing on the Happy Day Today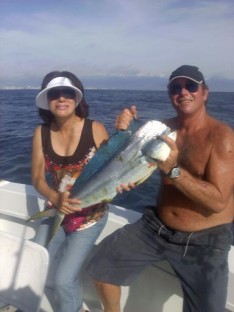 Mr. & Mrs. Guarieri from Italy arrived in the USA to attend the Fort Lauderdale35th Annual International Boat Show.  While in town, they decided to charter the "Happy Day Today" charter boat for a four hour fishing trip with the Topshot fishing team aboard our 46' Hatteras.
We left the dock and weaved our way out of BahiaMar where the Ft. Lauderdale Boat Show is held.  There are numerous exhibit boats from the International Boat Show, and we passed boats from 40 ft. to a 185 ft. yacht, which is a show in itself.
Twenty minutes later we cleared the inlet and were at the sea buoy in 120 ft. of water.  Water conditions did not look favorable at this depth so I ventured further off shore.  I could see a color change sitting off in the distance that was in 650 ft. of water –   from a cloudy water to a deep blue indigo with sargassum seaweed and debris floating.  I looked to the south of the color change, and I could see birds working the line.
Two minutes trolling on the edge with teasers just set on the third wave back, both the right and left long rigger Ballyhoo's were struck by the first school of Mahi Mahi's.  With just Mr. & Mrs. Guarieri as anglers on the "Happy Day Today" and having four of the fishing lines pulled out of the outriggers at the same time with Mahi Mahi's exiting the water and doing summersault was thrilling. With one fish jumping over the other fishing line, it was controlled cockpit chaos.  Mitch our first mate kept busy by making sure the lines stayed taut and untangling the lines when needed.  We put four Mahi Mahi's in the fish box and went back to the same area for more action.  This time a Bull Mahi Mahi swam out from underneath the seaweed line and ate a Ballyhoo from the rigger.  Mrs. Guarieri fought the fish for 18 minutes and was rewarded with a 21 lb. Bull Mahi Mahi.  We kept trolling the weed line south ofFort LauderdaleFL, picking away at the Mahi Mahi's, and some Tunas, giving us a total catch of 13 Mahi Mahi's and two Black Fin Tunas.
With a good catch of fish on the charter boat Happy Day Today and the Topshotfishing team, it was time to start heading back from our offshore trip.
Posted by:
Top Shot Sportfishing
Located in: Ft. Lauderdale, FL Phone: 954-309-7457
Fort Lauderdale charter boat "Happy Day Today" is a 46' Hatteras with twin Detroit Diesel power cruising at 18 knots. On your charter, we are able to run offshore to deep water to target the bite or whatever it takes to make sure your Fort Lauderdale fishing charter is a successful and fun experience.
See All Reports