Fort Lauderdale Fishing on the Happy Day Today with Capt. Zsak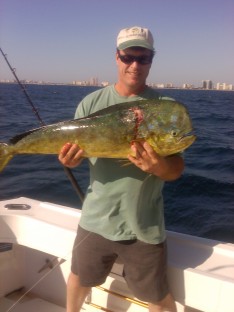 Russ Beckley and his friend, Ed, from New York arrived at the Bahia MarYacht Center for a day of deep sea fishing on the Happy Day Today with the Topshotfishing team aboard our 46' Hatteras.
With our first cold front here in Fort LauderdaleFL, the wind was out of the north, northwest at 10-15 mph and the temperature was 58 degrees at 7 am.  The mate, Mitch, and I were bundled up with long pants, heavy jackets – trying to keep warm; Russ and Ed arrived in Bermudas and t-shirts, enjoying our beautiful fall weather.   By 9 am, the temperatures were in the mid 70's and we shed our layers of clothing.
Russ requested to do some kite fishing with live bait, so we stopped and purchased a dozen live Goggle Eyes from T & T Bait Boat located in Port Everglades, Fort Lauderdale.  The bait boat goes out at night to catch the nocturnal feeding Goggle Eyes – once the sun rises, they stop feeding.
With a dozen Goggle Eyes in our live bait well, we headed north off of Fort Lauderdale FL to an artificial wreck that sits in 160 ft. of water.  With little current, it is a good idea to fish around a structure.   We had two kites out with two live baits on each kite and one from the outrigger with a spin on lead.  Waiting for our first bite, we talked about the snow storm New York had the previous week and the damage caused.   Our first bite was a Mahi Mahi in the 20 lb. class on the right, long kite bait.  The fish decided to jump across both fishing lines from the right to the left tangling both baits from the left kite, so Mitch had to untangle the fishing line mess.  Our reward was a 26 lb. Bull Mahi Mahi, followed by a couple of chop off from toothy predators.  Our next catch was another Mahi Mahi and thereafter a few more Mahi Mahi's.
With the sun gleaming down on the water, it was difficult to identify the fish that attacked the live bait from the left long kite.  Russ was the angler on this hooked fish and fought the fish for 35 minutes.  As the swivel broke the surface, I could see that it was a 7 ft. Shark (Golden Hammerhead), weighing close to 150 lbs, which was a challenging catch on a 30 lb. test line.  Ed took a video of the action from the transom of the boat till the fish was released.  It was not Ed's turn, and this time the catch was a Black Tip Shark.
Posted by:
Top Shot Sportfishing
Located in: Ft. Lauderdale, FL Phone: 954-309-7457
Fort Lauderdale charter boat "Happy Day Today" is a 46' Hatteras with twin Detroit Diesel power cruising at 18 knots. On your charter, we are able to run offshore to deep water to target the bite or whatever it takes to make sure your Fort Lauderdale fishing charter is a successful and fun experience.
See All Reports