Fort Lauderdale Fishing on Happy Day Today with Capt. Zsak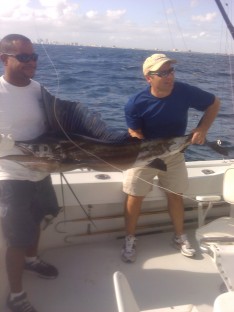 We went out with a group of business men affiliated with Bank of America – with blue skies, winds out of the east, 12-15 mph and temperatures in the low 80's, made for an enjoyable fishing charter.
The day before produced a double header Sailfish, therefore, there was no reason not to go out to the same spot over the wreck located in 385 ft. of water.  As I got close to the wreck, I could see schools of Flying fish exiting the water.  We put out two kites – four live Goggle Eyes from the kites and one live Goggle Eye from the outrigger.  To make it more inviting for the Sailfish, we had a bait well full of Finger Mullets.  By throwing a dozen or more live Finger Mullets over the side (chumming with live bait), attracts more predators – we repeated this every 15 minutes.
As we sat there waiting for the Sailfish's arrival, a Mahi Mahi ate one of our live Goggle Eyes and the angler brought it to the boat.  We threw over more free swimming live Finger Mullets and more Mahi Mahi's appeared.  It is very unusual this time of year to be catching Mahi Mahi's in the 20 lb. class, which we have been catching –  this is more of a Summer time fish.   Next, a Hammerhead Shark appeared and ate our live bait from the right short kite.  Thirty-five minutes later, the Shark was brought to the boat, pictures were taken and it was released.  With an hour left in our charter, our Atlantic Sailfish appeared, eating our left kite bait.  What a spectacular show this Sailfish put on – tail walking that seemed to go on forever but was only a minute long.  Patrick was our angler on the Sailfish and he brought this magnificent fish to the boat.  We lifted the Sailfish out of the water to take its picture and then quickly release.
With a good catch of fish, it was time to start heading back from our offshore trip.
Posted by:
Top Shot Sportfishing
Located in: Ft. Lauderdale, FL Phone: 954-309-7457
Fort Lauderdale charter boat "Happy Day Today" is a 46' Hatteras with twin Detroit Diesel power cruising at 18 knots. On your charter, we are able to run offshore to deep water to target the bite or whatever it takes to make sure your Fort Lauderdale fishing charter is a successful and fun experience.
See All Reports