Fort Lauderdale Fishing on Happy Day Today with Capt. Zsak
For the past four days here in Fort Lauderdale, FL we had tropical winds 15-40 mph, and anywhere between 5" of rain in Palm Beach to 2' of rain in Key West.  Finally, our weather changed on Friday – back to normal, blue skies, sunshine and seas 2-4'.
There has been some excellent King Fish action on live bait ranging in size from 10 lbs. to 35 lbs.  Mahi Mahi and Spanish Mackerels were also the highlights for this week here in Fort Lauderdale FL.
Sailfish action has picked up – they have been hooked up anywhere from 85' of water out to 190 ft. of water off of the sea buoy in Fort Lauderdale FL.
Looking back at some unusual pictures I have taken in my 35 years of traveling around the world fishing in every ocean, one picture stands out the most.  While fishing off of Walkers Cay in the Bahamasin the BBC, the Bahamas Billfish Championship, back in the late 70's with angler Marsha Bierman and her husband, Lenny, I took a picture of a Blue Marlin that weighed in at 346 lbs.  To the amazement of biologist, Monty Lopez, a 6 ft. White Marlin was found in the stomach of the Blue Marlin.  Just to prove a fact that Blue Marlin just kill for a living even if they are not hungry – this Blue Marlin had just eaten a 6 ft. White Marlin and still attacked a lure.
Thanks and tight lines,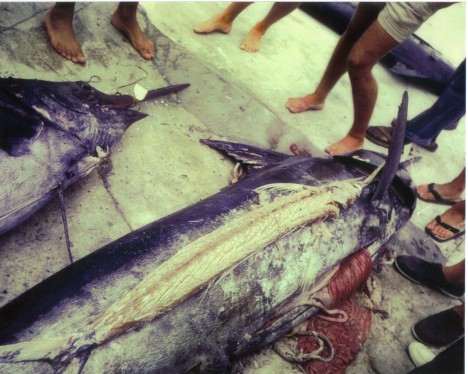 Posted by:
Top Shot Sportfishing
Located in: Ft. Lauderdale, FL Phone: 954-309-7457
Fort Lauderdale charter boat "Happy Day Today" is a 46' Hatteras with twin Detroit Diesel power cruising at 18 knots. On your charter, we are able to run offshore to deep water to target the bite or whatever it takes to make sure your Fort Lauderdale fishing charter is a successful and fun experience.
See All Reports