Benchmark Sportfishing, Bust on the Bass, Hammer on the Blues!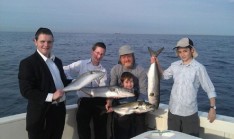 On Tuesday, Benchmark Sportfishing, hosted repeat offender Jonathon S. and the boys for a mid-day trip! Last time out was in August and with fluking slow in the south wind, we went sea-bassing. Coming back this time, Jon was looking for a better fighting target.
We set rigs out on SB Rocks, and pulled tubes, shads, single tubes, and stretches, trying to convince a Bass to bite mid-day. Only finding small bluefish feeding on clouds of rain-fish topwater, and catching a couple. We moved out to the mud and as soon as we came tight on the anchor had all the bluefish action the boys could handle. 1, 2, and 3 fish on at a time until everyone's arms were sore, and after keeping 27 up to 10lbs and releasing just as many up to 15lbs, everyone had their fill!
Ended the day with not a Bass bite, which we know is tough Mid-day to begin with, but in the end had a great time and some happy boys!
Out again Friday, Stay tuned!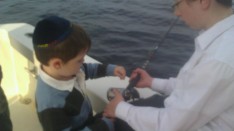 Posted by:
Benchmark Sportfishing
Located in: Point Pleasant Beach, NJ Phone: 267-393-0024
Come aboard a Benchmark boat, for a day of fishing, and see how our crew is on top of the game! With our 44' Luxury Sportfisherman targeting all Inshore and offshore Gamefish, and our 20'Center console chasing the Big Striped Bass, Blues and Fluke. We will cater a day to you. Sailing out of Sandy Hook, Raritan Bay in the Spring and Point Pleasant Beach, Manasquan Inlet from June through Dec. We're always on the Fish, make sure you are to!
See All Reports