Chunk Bite is on Fire!
Howard Zodicoff's group had a late start but really made up for it in a short amount of time. The bite was a little slow for the first 30 minutes but after making a quick move to better bottom and the tide picking up the fishing was absolutely non-stop, with plenty of doubles all on LIGHT TACKLE!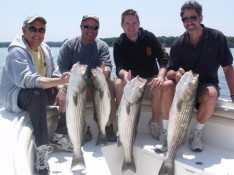 We've been absolutely crushing the fish with Capt Mikes light tackle and the clients have loved every minute of fighting fish with gear this light.
We still have some spots open for next week and the fishing has been getting better each day. We are seeing more signs of the bluefish moving in which will help the bass begin to feed even more aggressively and heighten the chunk bite.
Posted by:
Long Island Fishing Charters
Located in: Port Washington, NY Phone: 516-502-8837
Long Island Fishing Charters - Spend a morning, afternoon or evening, with Capt Joby Vinarski (516-502-8837) or Captain Andy LoCascio (516-978-1634), host of the hit TV show Northeast Angling or some of the Northeast's finest and most experienced captains. Fish or just cruise the protected western Long Island Sound waters from Manhattan's East River to Connecticut. Sharpen your skills and learn about the techniques, tactics and gear used to catch the big fish. No prior fishing or boating experience is necessary! Now booking SPRING STRIPERS!
Manhasset Bay Marina 10 Matinecock Avenue Port Washington, NY 11050 (boat location only - do not send mail) Click here for directions
See All Reports