It just wont stop! – Hot Live Line Bite
Nori, Susan and their crew had an incredibly intense trip, limiting out within the first 45 minutes. The bass were taking live bunker left and right, as we did more drifts and made them more active we switched to whole bead bunker to conserve our live baits. When the fish began to shut off we would switch back to the live to get the bass to feed again. There were also plenty of monster bluefish between 12 and 16 lbs mixed in as well.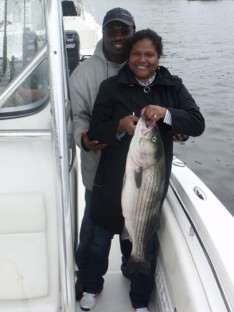 Posted by:
Long Island Fishing Charters
Located in: Port Washington, NY Phone: 516-502-8837
Long Island Fishing Charters - Spend a morning, afternoon or evening, with Capt Joby Vinarski (516-502-8837) or Captain Andy LoCascio (516-978-1634), host of the hit TV show Northeast Angling or some of the Northeast's finest and most experienced captains. Fish or just cruise the protected western Long Island Sound waters from Manhattan's East River to Connecticut. Sharpen your skills and learn about the techniques, tactics and gear used to catch the big fish. No prior fishing or boating experience is necessary! Now booking SPRING STRIPERS!
Manhasset Bay Marina 10 Matinecock Avenue Port Washington, NY 11050 (boat location only - do not send mail) Click here for directions
See All Reports